Chic Mommy is announcing its unique diaper bag that is getting rave reviews from Amazon's chic mommies.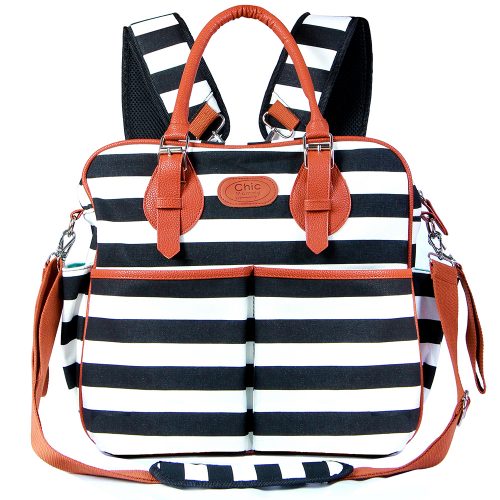 March 14, 2018 /MarketersMedia/ —
After many cravings for diaper bags that will allow them to carry all the essentials they need for themselves and their babies, the solution, which is in the form of Chic Mommy diaper bag is finally here for Chic Mommies.
The diaper bag which is big enough to pack all the vital stuff a Chic Mommy may need to carry is highly compatible thanks to its square design.
The inner design of the bag is made of color which makes it the ideal background for easily finding even the smallest essentials.
"Our diaper bag can carry all the stuff you need because it made of a square design (14x14 inches) which means that it is spacious enough to fit double the stuff (even for two babies) and yet to be compatible, guaranteed," says the team Chic Mommy. The team further stated that; "purchases made, come with a full 90-day no-risk 100% Money Back Guarantee. Either you're thrilled, or we don't want your money."
Chic Mommy Diaper bag which has already been getting 5-star ratings from Amazon customers can be converted to a backpack. That is, it comes with "Hand-free" feature to give mommies the ability to use both hands to get things done for their babies whenever the need arises.
The Black & White stripes of the bag which according to research contributes to the brain development of babies.
Highlights the sleekness of this diaper bag design. The exterior of the bag which can also be used for super-Fashion women for fashion purpose is made of 100% Canvas waterproof.
Unlike other diaper bags, Chic Mommy diaper bag has four different carrying options which are the Tote, Backpack, Stroller, and organizer. And the one hand Zipper design of the diaper bag gives moms the ability to carry their babies, use their phones while opening the bag all at the same time which makes it the perfect diaper bag for all moms, especially chic mommies.
About Us:
Ours is a babies' products' brand with a goal of making motherhood less stressful and more exciting. We cater for all your baby needs and only offer products that are of top-class quality.
Amazon shoppers looking for Chic Mommy Diaper bag can purchase it directly through Amazon.com.
To celebrate the launch of new 2018 Model release Chic Mommy, the brand is also offering customers a full 20% discount with the code 20 CHANEL when they purchase through Amazon.com.
All orders will be backed by 100% satisfaction guarantee. This promotional coupon is valid from 13th March until quantities last.
Follow Us:
Contact Info:
Name: Gabrielle
Email: Support@chicmommy.online
Organization: Chic Mommy